Coucou !
Exceptionnellement, je vais écrire cet article en français. Parce que je viens de terminer mes examens, mon semestre, mon année, mon bachelor (hallelujah) et aussi parce que je n'ai pas beaucoup de temps et que honnêtement j'ai la grosse flemme là. 😀
et puis zut à la fin, je n'ai pas besoin de me justifier, ici, ça reste mon blog tout de même.
Or… I could make a mix between French and English (le truc trop chiant à lire haha).
Anyway (bon j'arrête mes blagues), février dernier, je vous parlais d'un petit voyage que je venais de faire au Blue Mountains. J'avais promis d'écrire un article à ce sujet et bien sûr, je n'en ai pas eu le temps. Mais c'est parce que qu'il y a tellement de choses à dire là dessus (et parce que comme vous le savez, je me suis fait matraquer par l'Uni) (olala c'est fou qu'à chaque fois que j'écris en français, j'ai direct envie d'écrire en langue verte, à savoir de dire tout plein de gros mots. C'est mal. I will work on it. But not today).
Allez, je vous préviens, ce sera un post patchwork. Mais puisqu'il faut bien commencer quelque part, commençons par une petite explication du nom des blues mountains. Pour cela, je vais citer Kat qui a su être simple mais efficace:
"Nature is cool! Oil droplets released by the eucalyptus trees scatter short wavelengths of light creating that beauteous blue haze" Kat S, 34 weeks ago
Voilà pour l'explication biologique qui nous éclaire sur étymologie du lieu.
Moi quand j'entendais parler des montagnes bleues (montagnes bleues ça sonne un peu moins bien en français, mais bon, il faut savoir être consistant parfois….) je m'imaginais un truc comme ça :
Alors qu'en fait, c'est plutôt comme ça (je n'ai toujours pas d'appareil photo du coup navrée pour la qualité hs):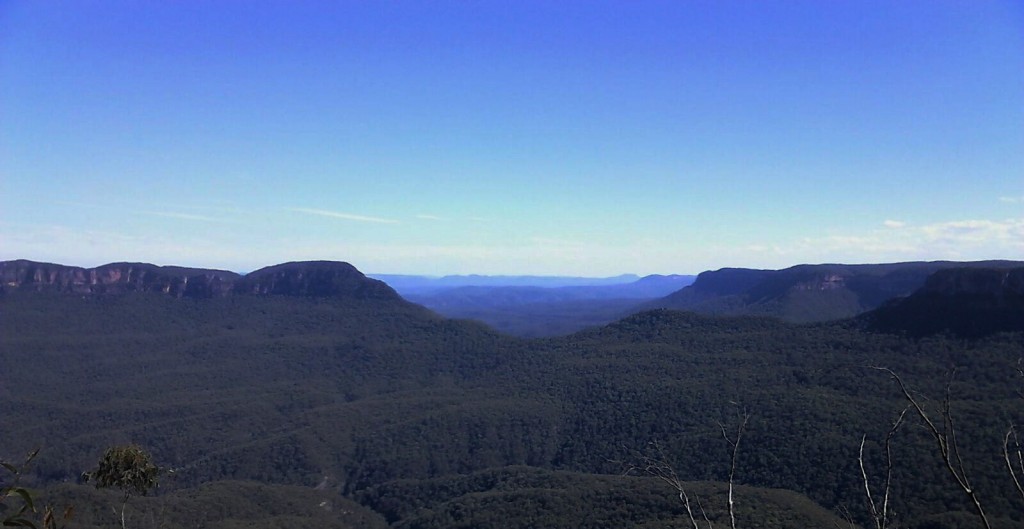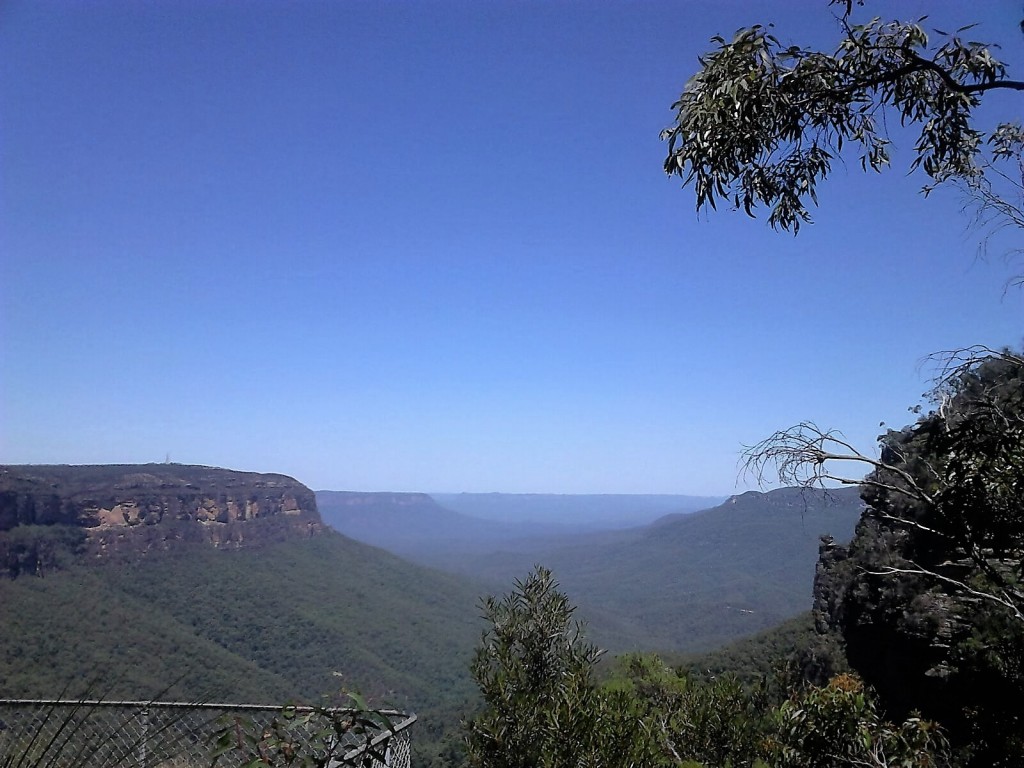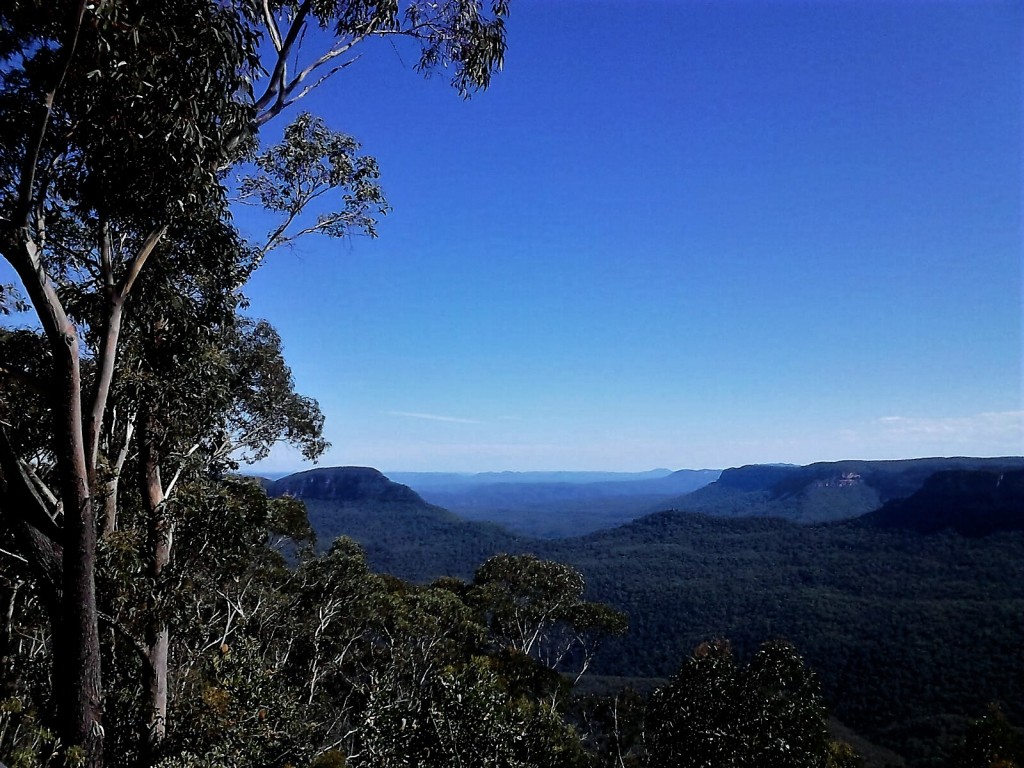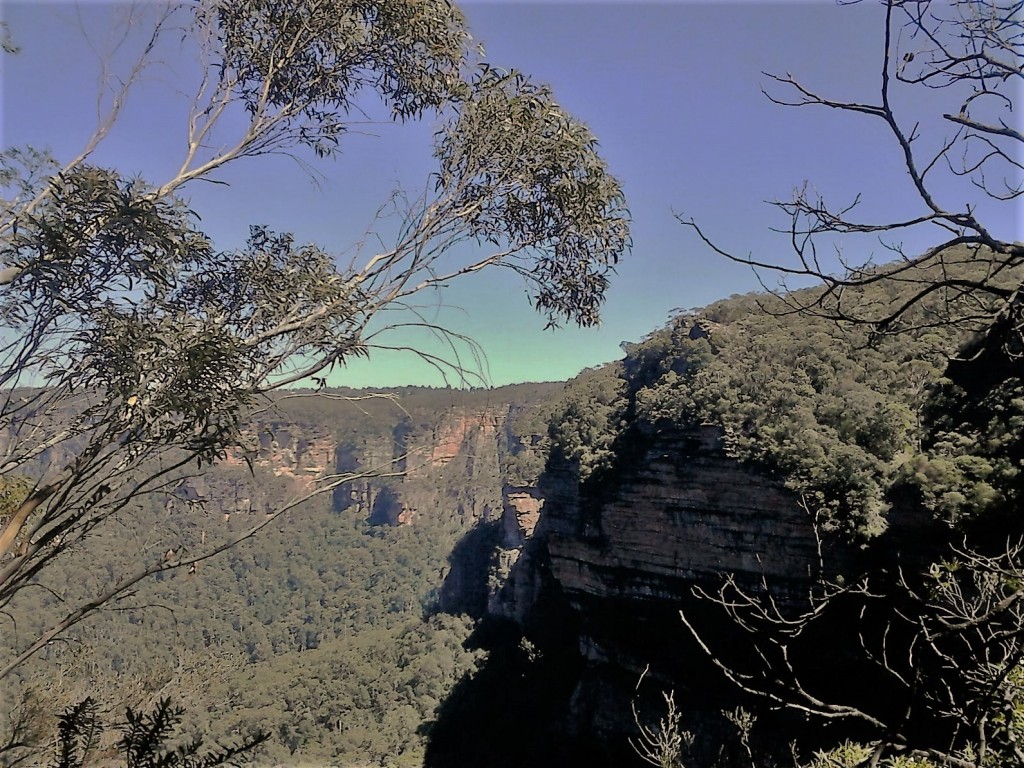 Bon on comprend quand même d'où vient toute cette histoire de bleu (« and stuff »).
Et du coup, allez savoir comment mais ça m'avait fait pensé aux esprits de la montagne du film "Princesse Mononoké" réalisé par mon très cher and beloved Hayao Miyazaki.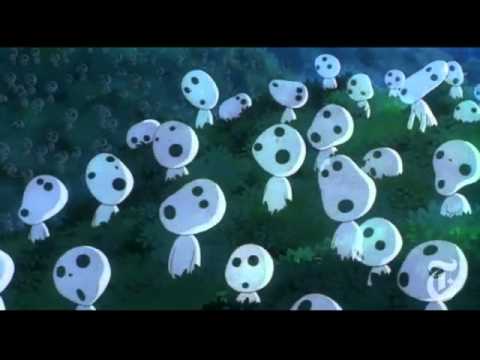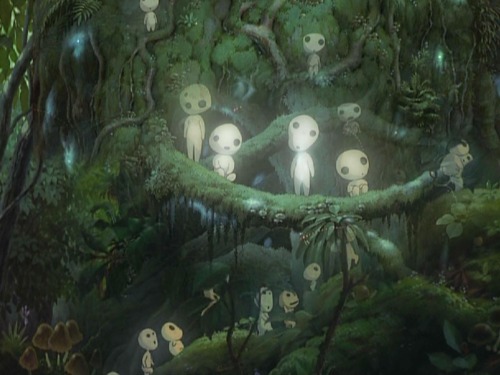 Ouais, je sais que je pars en live là, mais.. restons concentrés, et puis restez avec moi j'ai encore plein de trucs à raconter 😀
Toujours dans les montagnes bleues, une des plus grosses attractions du coin et je dirais même de l'Australie est la vue panoramique des trois sœurs or Three Sisters.
Voir photo ci-dessous ou voir le dessin du début de l'article.
Faut dire que c'est joli ♥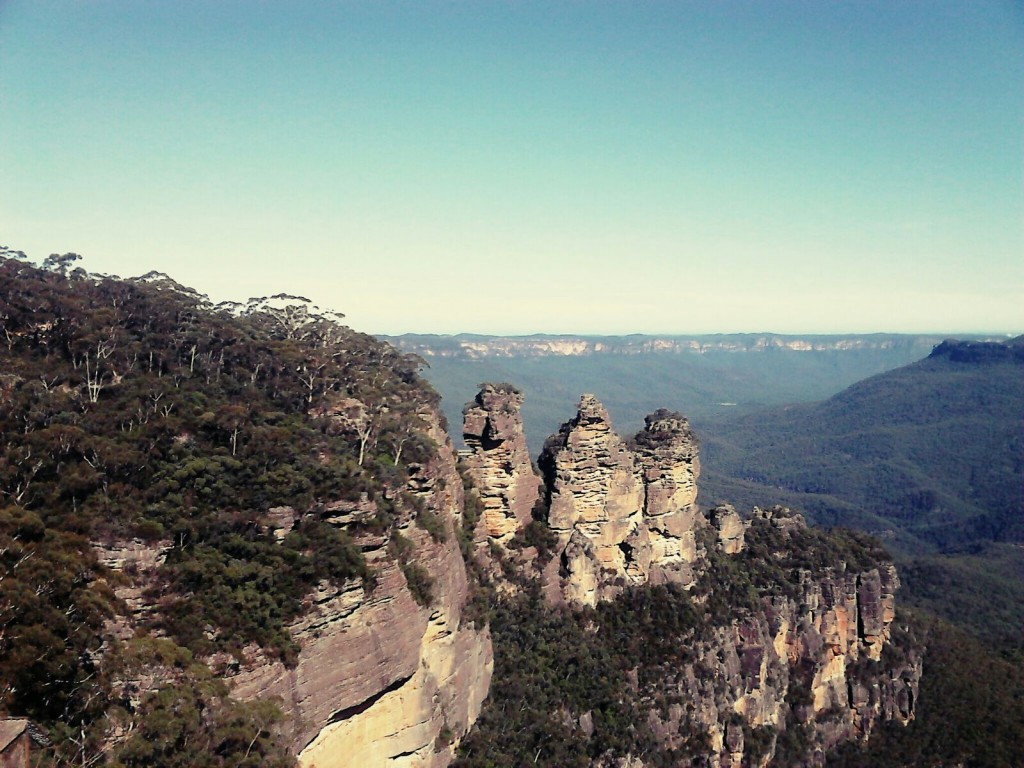 Et la pluie et le vent et le temps ont érodé un même grès (roche détritique de la catégorie des roches sédimentaires, traumas de mes cours de géomorphologie).
Allez, une petite photo vintage pour la route: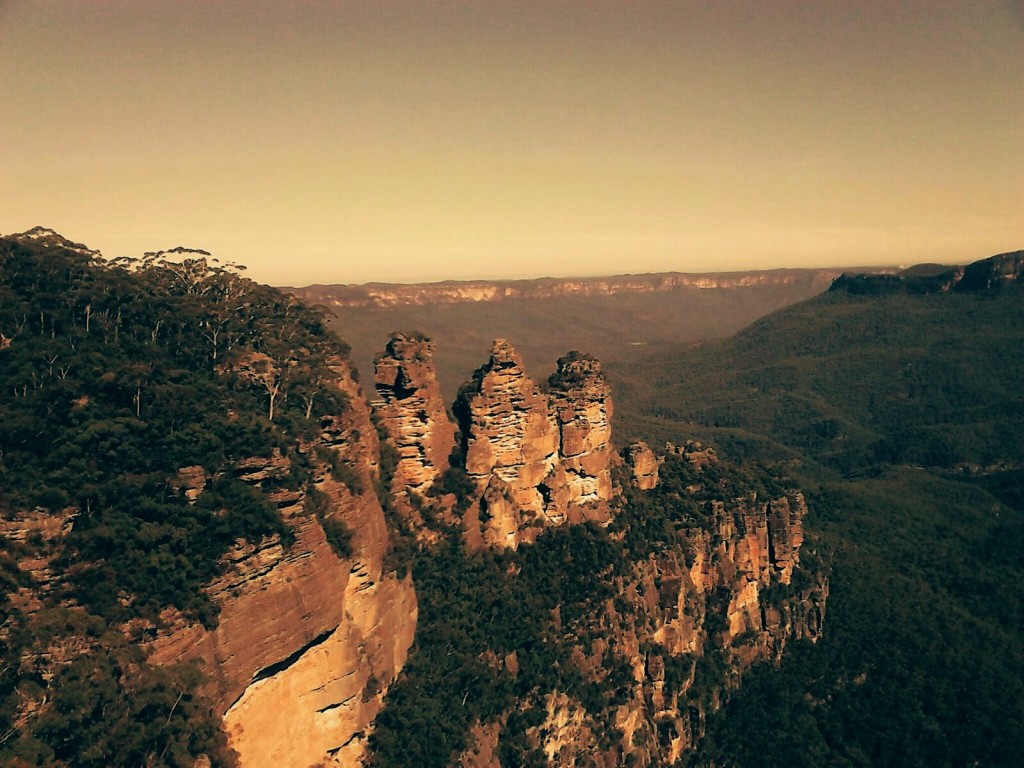 J'avais entendu parlé d'une légende aborigène qui expliquait la formation particulière de ce rocher mais j'ai lu ensuite que cette légende avait été construite de toute pièce par des non-indigènes pour attirer les touristes. *soupir*
Bon apparemment ce lieu a tout de même une signification spirituelle et culturelle pour certaines tribus mais je ne connais pas les détails.
Enfin ce qui était aussi hyper cool, c'était « The Giant Stairway » de 800 marches, qui part de l'Echo Point et qui va jusqu'au fameux rocher. Enfin c'est plus cool à descendre qu'à remonter surtout sous un soleil de plomb mais c'était une marche impressionnante.
Et puis j'ai bien sûr été touchée par ce rocher (ça se dit ? Peut-on être émue par un rocher grammaticalement parlant?) parce que nous somme trois sœurs et que du coup à chaque fois que je voyais « Three Sisters » écrit quelque part (c'est-à-dire à peu près partout) je pensais à mes deux sœurs et à nous trois (c'est à dire à peu près tout le temps).
Dans ma lancée des trois sœurs, j'aimerais aussi partager des tableaux que j'adore peints par Colleen Wallace Nungari, une prolifique et talentueuse artiste aborigène :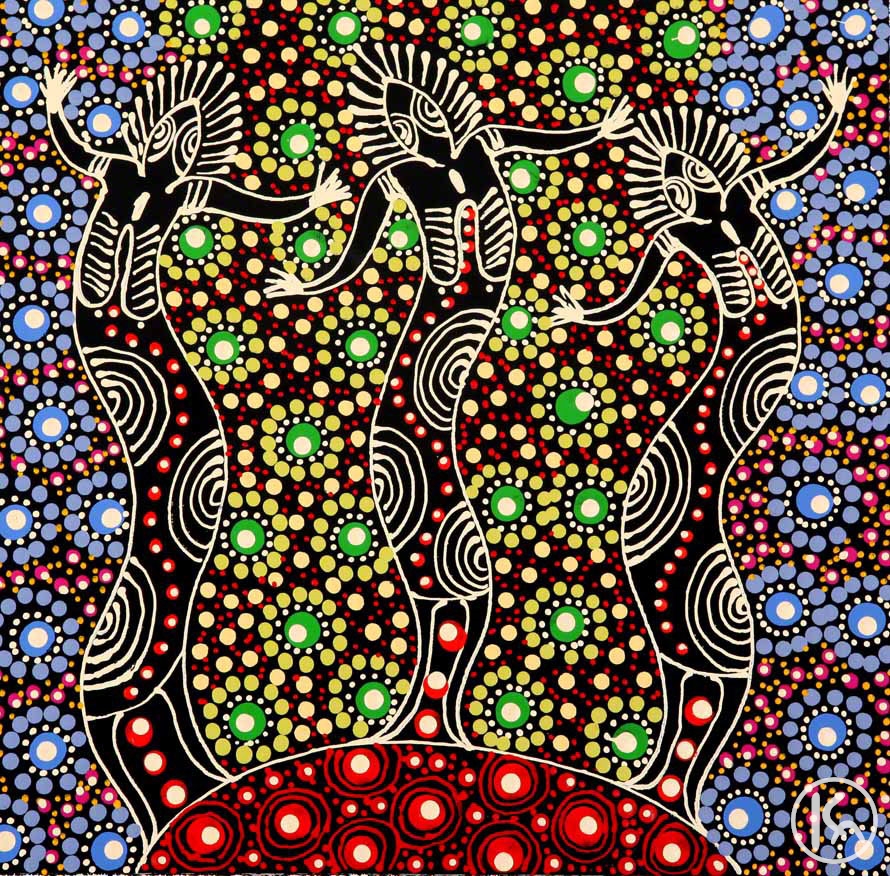 Bon je me suis limitée à trois (parce qu'on est trois) mais en vrai j'aurais pu vous en montrer mille. C'était dur de se restreindre 🙂
Encore trois sœurs! Décidément! Et puis "Three" ça ressemble à "Tree" et dans la famille on aime bien les arbres. Et on dit toujours qu'on est les cinq arbores. Etrange… Surtout qu'il paraît qu'il n'y a pas de coïncidences dans la vie \0/
Purée, je pensais que ça allait être plus facile d'écrire en français, mais je galère aussi.. (la meuf)
Ce n'est pas tout mais je dois vous laisser, il faut que je fasse mes bagages, je pars demain pour les territoires du nord et Uluru (hiii)
En tout cas vous avez dû remarquer que je parle souvent de montagnes dernièrement. C'est vrai que les Alpes me manquent (et le fromage aussi mais c'est une autre histoire) alors du coup j'ai dessiné beaucoup de montagnes.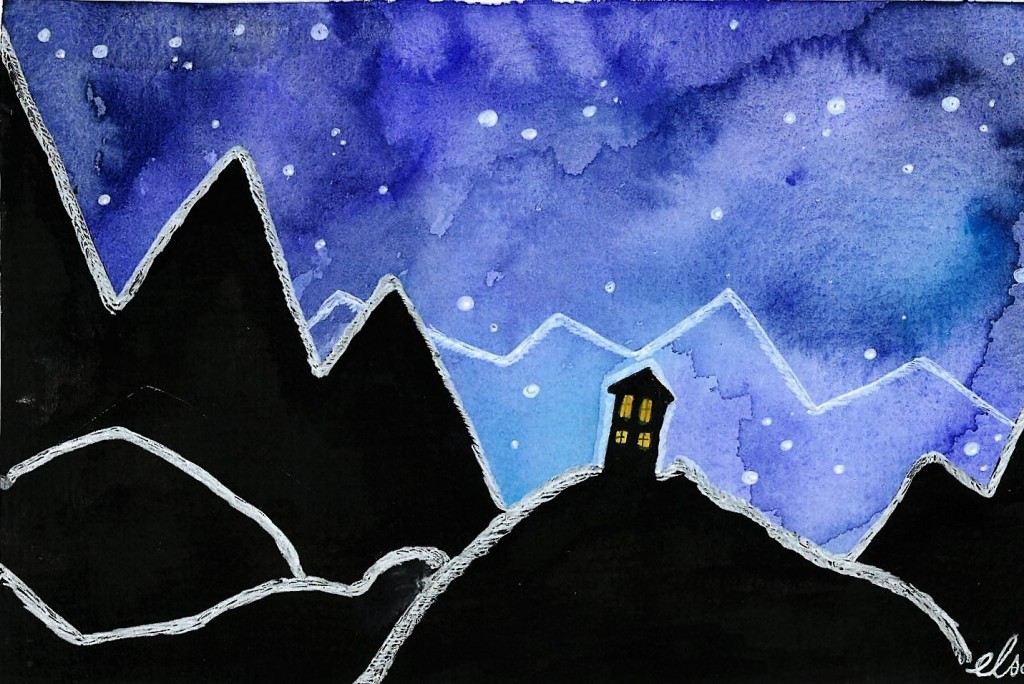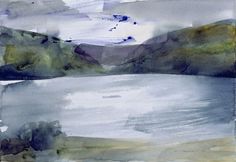 Raah, j'arrive pas à m'arrêter mais puisqu'on parle de montagnes bleues, je ne peux pas ne pas parler de Louis le Brocquy. Son tableau « Greatlake Glendalough » (ci-contre) de 1991 a inspiré ma Maman les magnifiques aquarelles suivantes :
Oulala c'est ce qu'on appelle un gros article. Je suis éreintée maintenant 😀 Et complétement à la bourre pour aller voir Doris au cinoche.
Allez bisous et à très vite les copains! Virtuellement et dans pas si longtemps, on se reverra même dans la vraie vie! Unbelievable !