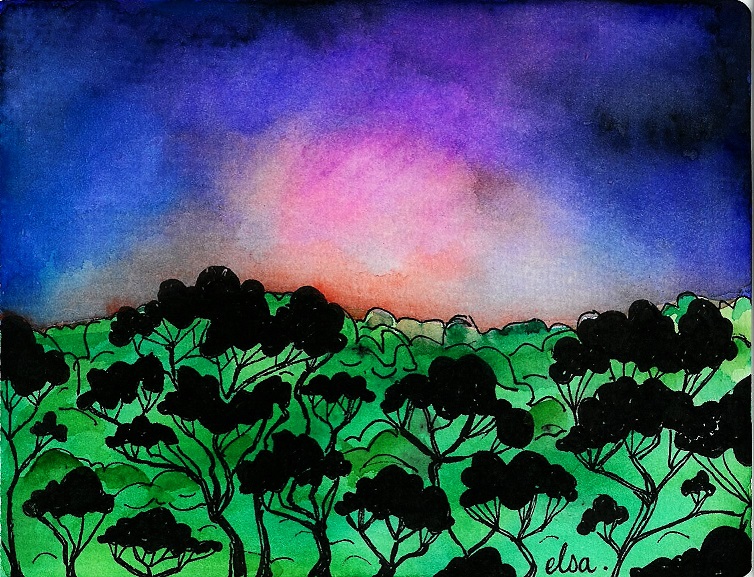 Oh my god, I cannot believe there are only two weeks left before the big departure!! I am not ready! "That's because you have so many shits to pack…."
Very true. (that's a shame..)
But also, I had not realized how many important people were out there until I started to organize my farewell events. Actually, I really want to take the time to say properly goodbye to each of them (through tea-time and scones orgies, Mexican night(s), picnic and strolls, lunchs, diners, exhibitions (especially Frida Kahlo and Diego Rivera at the NSW Gallery) coffees, coreen BBQ, brunch etc and why not a glass of wine at the Opera House but I cannot guarantee the Argyle afterwards haha). Bref, the next two weeks are packed, packed, packed with -I hope- lots of quality time in perspective.
I also want to see as many Gumtrees and Sunset as possible. I could never get enough of these.. and it definitely something that I will be missing.
I know that we do have sunsets in Europe as well but… it is not the same.
The last couple of weeks have been quite intense. Uluru was just an amazing experience; we slept outside under the milky way (♥.♥) and around a campfire. It has reminded memories from all my scout camps. I also met great people, I laughed, I really tried to be mindful during the entire journey so that I could enjoy to the fullest. That is a difficult exercise, but when you manage to be in present moment, you get to deeply connect with the place and as he said "something magical happens".
I feel like I made the most of this trip to the northern territory. 🙂
Actually, I feel like I made the most of this exchange.
and I am so excited of seeing you soon.